FREE GOLDEN LIGHT HEALINGS
Join Us on a Path to Inner Peace:
Experience Healing and Balance in Our Free Golden Light Healing Sessions
—
THURSDAYS (BIWEEKLY)
12:30pm-1:00 pm (EST) | 10 pm -10.30 pm (IST)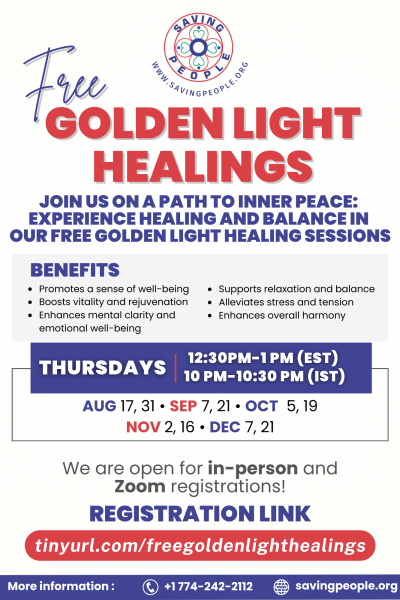 What is Golden Light Healing?
Golden Light Healing is a powerful and transformative energy healing technique that promotes relaxation, balance, and well-being. It can help alleviate stress, release tension, and enhance your overall sense of harmony.
Why Attend?
-Experience deep relaxation and rejuvenation
-Release negative energy and promote healing
-Enhance your mental, emotional, and physical well-being
How to Join:
Click the button below to register.
For more information, contact us at +1 774-242-2112 or at bhavna@savingpeople.org